Welcome to the Era of Extreme Agile
Extreme circumstances necessitate extreme agility. Here's how to weather the storm amid widespread, systemic change.
Organizations everywhere are trying to adapt to the "new normal." Just recently, "normal" meant reacting to or driving digital disruption. Now, entire value chains are being stress-tested by the COVID-19 outbreak. Even the disrupters are being disrupted.
Up until recently, the pace of change had been accelerating, although there seemed to be a certain rhythm and cadence to it. The COVID-19 pandemic represents an extreme form of disruption that few anticipated. It's testing the agility and resiliency of organizations everywhere.
Welcome to the era of extreme agile.
How organizational agility is evolving
Organizations have been told over the past several years that they need to become agile so they can "pivot" or adapt to rapidly changing circumstances. An extreme version of those skills will be vital, as organizations adapt to the inevitable economic contraction and expansion that will unfold in the months and years ahead.
Future problem-solving will require the people-processes-technology approach that has helped facilitate organizational change as of late.
For example, workforce diversity will be even more critical as organizations ponder the types of value they should be providing in the global economy. EY Global Chief Innovation Officer Jeff Wong said he can't emphasize the importance of diversity enough.
Wong also said having "separate but equal systems and processes" is important. One mode allows the business to grow and flourish. The other reflects a different mindset, moves at a different tempo and operates under a different set of rules within an acceptable level of risk. In other words, one mode sustains the business while the other is future focused.
"In order to make that work, you need a separate but equal set of pathways and processes that allow for new things to happen, new businesses, new ways of working," Wong said.
The third piece is the technologies that help enable the desired states. To best leverage the competitive value of a technology, it's important to focus on the leading edge of what it can enable, which is only possible through hands-on experimentation.
All three elements have been essential, and they will remain essential. However, the dramatic impact of the pandemic also requires other considerations.
Priorities have shifted
The fierce, competitive nature of digital disruption has been displaced, at least temporarily, by caretaking as the top priority. Businesses must focus on the health and safety of their customers and employees first and the wellbeing of the business second.
"There's a lot of stress-testing happening around the world. How can companies model out how their businesses will survive and move forward inside of different models of possibilities of where this pandemic goes?" said Wong. "What we're starting to see is some of the leading companies that have been able to address [the] No. 1 and No. 2 [priorities], thinking about how their company needs to be as we move through this [crisis] and past it. Maybe the word is 'rebuild,' maybe the word is 'reevaluate'."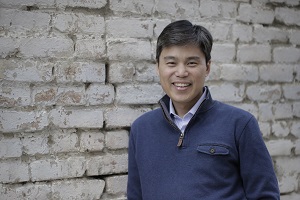 Jeff Wong, EY Global
Since supply chains, pricing, and customer needs are all changing simultaneously, organizations will have to be more even more agile and resilient than they have been in the past.
"This is about your organization, your supply chain and suppliers, your customers. It's about the radical changing needs in this environment today, the possible changing needs as we exit this environment," said Wong. "And those changes will happen or are happening everywhere simultaneously so it will require extreme agility."
Navigating the unprecedented upheaval and making decisions when so much is subject to change is difficult. However, failing to make important decisions in a timely fashion is unwise.
"This is a time when purpose and value come to the forefront," said Wong. "What we can do in a time of great change is to allow our purpose and values to guide us."
The present circumstances should serve as a reminder that the purpose and values organizations have articulated should be more than just words on paper.
Some businesses are wisely communicating with customers about how the pandemic is affecting them, what they're doing to keep customers and employees safe, and how they're attempting to satisfy customers' needs in light of supply chain interruptions and executive "shelter in place" or "stay at home" orders. According to Wong, overcommunicating is wiser than under-communicating.
Innovation needs to evolve, too
Innovation is often considered the art of the possible, but success requires more than imagination.
"This moment right now requires hyper focus on customer needs, supplier needs, your value chain system's needs and understanding the needs of each layer in detail. How do we address them today? How will those things change going forward? How do we change ourselves to make that happen? That's really something I can't over emphasize," said Wong.
The experimental culture companies have been advised to adopt in reaction to digital disruption will remain critical moving forward because it's an essential aspect of innovation and an effective way to deal with uncertainty.
"[The present situation] emphasizes the need for agility, experimentation, and the ability to think through things in a different way. Innovation isn't just about the cool new toy, the cool new idea, the cool new business. Innovation is a capability that allows you to address change, radical change, extreme change," said Wong. 'We're going to see a big shift in industries around the world not just because of the economic impact, [but because of the] possible changing nature of how customers and suppliers think about themselves in this world."
Bottom line
The shock of recent events doesn't have to result in a complete lack of clarity. Most likely, your company already has already developed some of the basic skills it will need to weather the present storm.
It's important to continue honing those skills while being sensitive to the changing nature of the ecosystem within which your company operates.
Read more about enterprise agility and risk strategy in our recent articles:
CIOs: Here's How to Boost Your Business Model Resilience
C-Suite Taps IT Leaders Amid Coronavirus Crisis
Data Governance Is Improving, But…
Lisa Morgan is a freelance writer who covers big data and BI for InformationWeek. She has contributed articles, reports, and other types of content to various publications and sites ranging from SD Times to the Economist Intelligent Unit. Frequent areas of coverage include … View Full Bio
We welcome your comments on this topic on our social media channels, or
[contact us directly]
with questions about the site.
More Insights